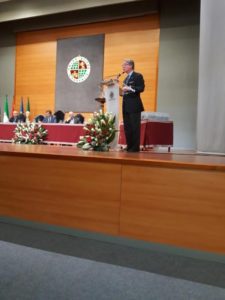 During 2018 the University of Jaén (UJA) has been celebrating, through multiple events, its 25th anniversary. On October 30th, it held an academic ceremony to acknowledge all those companies and external institutions that have proven an outstanding commitment and performance, in collaborating with the University and helping the development and excellence of its teaching and research mission.
BSQ Solar, as well as its forerunning venture in the CPV field, Inspira, have been collaborating since 2005 with the solar energy research teams of the University of Jaén, currently integrated in its Centre for Advanced Studies in Energy and Environment, and frequently contracting them research and consultancy services required in its projects.
BSQ Solar was honored to be invited to this acknowledgment event represented by its CEO, Dr. Ignacio Luque Heredia, that received a commemorative plaque from the University's rector, Professor Juan Gómez Ortega. It is our sincere hope that this longstanding collaboration continues to support and enrich our future projects as it has been up to know.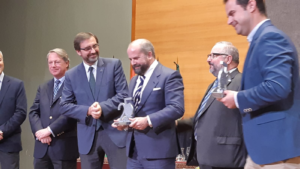 The University of Jaén is a public university based in Jaén, Spain. It was established by Law 5 / 1993 of the Andalusian Regional Parliament of July 1, 1993. In addition to the principal campus, Campus Lagunillas, located in Jaén, the university has two satellite campuses in Linares and Úbeda and also currently under construction is the Scientific-Technological Campus in Linares.
Since it was founded, the institution has committed itself to providing quality teaching, as well as the increase of scientific production and development of infrastructures. The University of Jaén offers of over 50 degrees, technical equipment of advanced technology, laboratories, a library with more than 480,000 digital publications, exchange programs and mobility for students within more than 60 countries, work experience with more than 550 companies, a careers service with two programs of professional training and modern sports facilities as well as a wide range of activities for students.