The U.S. Department of Energy (DOE) Solar Decathlon is a collegiate competition, comprising 10 contests, that challenges student teams to design and build highly efficient and innovative buildings powered by renewable energy. The winners will be those teams that best blend design architectural and engineering excellence with innovation, market potential, building efficiency, and smart energy production. In the summer of 2018, DOE merged its two student building design competitions into one Solar Decathlon competition.
The combined competition features two tracks, the Design Challenge and the Build Challenge. The Solar Decathlon provides a hands-on experience and unique training that prepares the competing students to enter the clean energy workforce. This international competition has been a driving force in raising awareness about clean energy since its inception in 2002. Technologies and solutions used in Solar Decathlon homes have advanced the residential building industry both in the United States and abroad.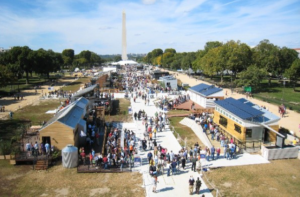 After the first Solar Decathlon was held in 2002, the competition occurred biennially in 2005, 2007, 2009, 2011, 2013, 2015 and 2017. Open to the public and free of charge, the Solar Decathlon allows visitors to tour energy- and water-efficient houses, and gather ideas to save energy and conserve water in their own homes.
Since the first competition in 2002, the Solar Decathlon has expanded internationally to include competitions in Europe, China, Latin America and Caribbean, the Middle East, and Africa. For example, Solar Decathlon Europe was established under a 2007 memorandum of understanding between the United States and Spain, which hosted competitions in 2010 and 2012. France hosted in 2014. The next Solar Decathlon Europe is planned for 2019 in Szentendre, Hungary.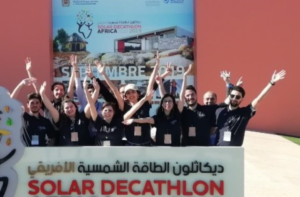 On November 15, 2016, the Moroccan Ministry of Energy, Mines, Water, and the Environment (MEMEE); the Moroccan Research Institute in Solar Energy and New Energies (IRESEN); and DOE signed a memorandum of understanding to collaborate on the development of Solar Decathlon Africa. The competition is planned for 2019 and has counts with 20 competing teams with participant universities and research centers from Morocco, US, Italy, Malaysia, France, Senegal, Nigeria, Germany, South Africa, India, Mali, Burkina Faso, Algeria, Cameroon, Tanzania, RD of the Congo, Turkey and Egypt.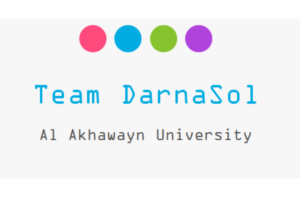 On April 30th, BSQ Solar has signed an agreement with Al Akhawayn University to sponsor its DarnaSol team that will be participating in this first edition of Solar Decathlon Africa. BSQ Solar will be producing and donating a 2,5kW PowerTreeTM HCPV system to be installed at the Darnasol project during the contest. Darnasol team is led by Al Akhawayn University and has as members, Helwan University of Egypt, the International University of Grand Bassam, in Côte d'Ivoire, the Faculté des sciences Appliqués de Kasdi Merbah in Ouargala, Algeria, and the University of Maryland, College Park.
Al Akhawayn University is an independent, public, not-for-profit, coeducational university located in Ifrane, Morocco, 70 km from the imperial city of Fez, in the midst of the Middle Atlas Mountains. The medium of instruction is the English language. Its creation was largely funded by King Fahd of Saudi Arabia and officially inaugurated by the former King Hassan II of Morocco on January 16, 1995. The Arabic name al-akhawayn, literally the "two brothers," refers to the two respective kings.