Within project PowerTree, BSQ has completed the development, construction and installation of a first Proof of Concept (PoC) of a PowerTreeTM system.
The prototype has a total power of 2,5kW rendered by 9 units of BSQ D280 HCPV modules, mounted on a custom designed long pole sun tracker. Long pedestal Az.-El. tracker is the chosen sun tracking architecture that with a low installation footprint that avoids interference of the moving frame with people underneath. Especial attention has been given during the design phase to the slenderness of the tracking structure as well as to the compactness and cost-effectiveness of the tracking drive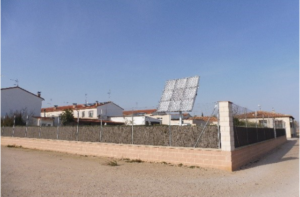 It has been installed in the garden of a single-family detached home at the La Mancha town of La Villa de Don Fadrique, province of Toledo. This house was already furnished with a conventional rooftop PV installation, thus becoming a valuable testbed in order to monitor and compare the respective performances of both types of solar PV installations and technologies.
Currently, BSQ in collaboration with the rest of PowerTree consortium members, continues to work in the upgrading of this PoC to turn it into a design oriented to urban markets and applications both functionally – encompassing different usages – and also aesthetically.